And now, the moment you've all been waiting for: Brian's answers to
your questions
. Enjoy!
Allison asked:
Now that you are an adult, what is your dream job?
Should I comment on job stuff publicly… I don't know if I should answer this one or not, so maybe I will tell you what I told people when I was 7 or 8: Professional baseball player!
Also, who is your favorite sister-in-law?
When you ask, it is you, but when Elizabeth asks, it is her – thanks for asking two questions that I don't feel comfortable answering, Allison!
Stephen asked:
Who is the greatest athlete of all time and why?
Tough one because an athlete who excels in one sport, may not in another, so I am going to pick two people (one old and one modern) who demonstrated they were the complete package. (Old) Jim Thorpe – won two gold medals in the 1912 Olympics for the pentathlon and decathlon, and played professional baseball, basketball, and football - GEEZ! (Modern) Bo Jackson – played professional football and baseball during the same calendar years and was a
man among boys
.
Side question: If you were a hot dog would you eat yourself?
Yes, hot dogs are delicious. No mustard, no ketchup, but I will take chili and cheese!
"The Bird" asked:
How/when did you know you wanted to become a pastor?
When I went off to college I knew I wanted to volunteer at a church. After I found one with a great youth pastor, and really enjoyed volunteering, and, of course, prayed about it, it felt right, and I believe God lead me down that path and prepared me to enter ministry.
How many times a day do you tell Amanda she is awesome? Do you feel that this is adequate?
Once? Twice? Maybe three times? Maybe she should answer the first part of this question. Second part – probably not.
Who is your favorite Muppet and why?
Easy – Beaker. "Mi mi mi mimi mimimi!"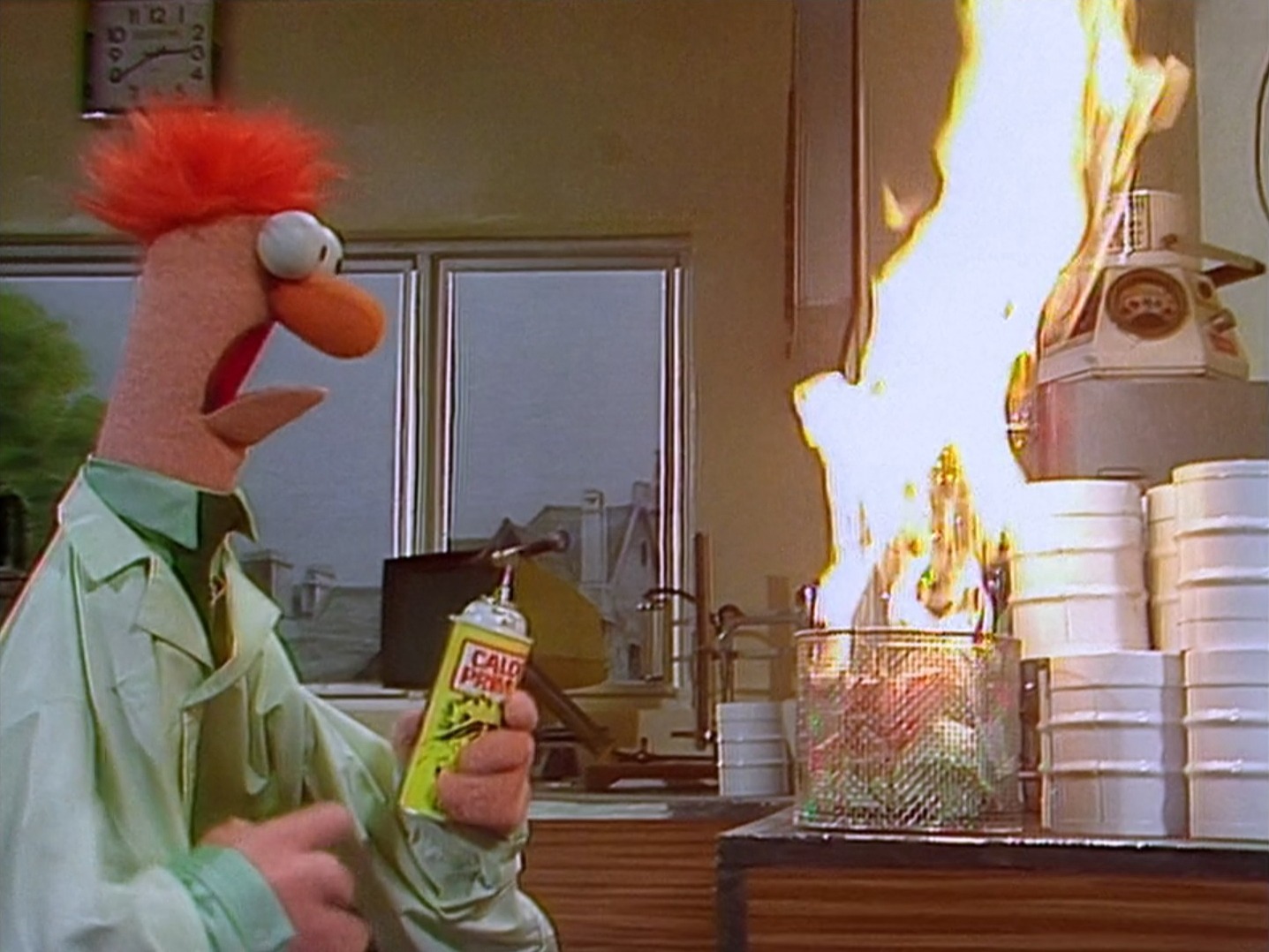 Leah asked:
Why did you marry Amanda?
Because she was the prettiest, smartest, funniest girl I had ever met!
Who is smarter, you or Amanda? How do you know?
Depends on how you measure smart. Do I know more about sports, trivia, cars, lawns, killing bugs, navigation, woodworking, finance, and computers than her – of course! Did she make better grades in school than I did – wasn't even close, her GPA killed mine! I guess the answer is that we make a great team :)
Who is your favorite sister-in-law (stolen from Allison)?
See Above
If you could live anywhere in the world (besides Richmond), where would you live?
I think the point of this question is to pick somewhere fun, so assuming I could move everything important to me, and work/income and cost of living didn't factor in, I would choose Hawaii (even though I have never been there) because it has mountains/volcanoes and a sweet beach. New Zealand would also be an option because of these same factors as well… and it has penguins.
Brooke asked:
What was/is your favorite 90's tv show?
There are a few that come to mind for me. When I was young, I sort of had a small crush on DJ from Full House (laugh it up, I know...), but these days my favorite 90's shows are probably Seinfeld (though Amanda may disagree) and The Fresh Prince (In West Philadelphia, born and raised!) Now you have the song in your head, and you are welcome.
Wade asked:
Mountains or beaches?
Beaches are my happy place.
When you have a child, would you rather he/she be morbidly obese or the dullest crayon in the box? Why?
I put some serious thought behind this, and I am going to choose to have the dull crayon, and here is why: I want my children to live long, happy lives. If they were morbidly obese, I don't think they would be able to have either of those things.
Astros - good draft pickup (Carlos Correa)?
Yep, great pickup. Kid wants to be a great, and any time you can get a great player up the middle of the field, I think you have to do it. AND they were able to sign him for less which means that guy they drafted with a supplemental pick at the end of the first round is more likely to be signed using that money we saved. Win-win.
What will Texas A&M's record be in their first year of SEC football?
@LA. Tech - W, Florida - W, @SMU - W, South Car. - L, Arky - W, @Ole Miss - L (we always lose to someone we shouldn't every year), LSU - L, @Auburn - L, @Miss. St. - W, @Bama - L, Sam Houston - W, Mizzou - W. That would make us 7-5 and that wouldn't be unrealistic and most Ags would be OK with that first year in the SEC.
If you could go to one sporting event in the world, which one and why?
If we are talking about one game on one day, it would be the College Football National Championship when A&M plays in it. If we are talking about an event, then the Olympics because it has it all.
Erika asked:
How does it feel to get dragged along to meet your wife's internet friends in real life? Were you looking forward to that moment as much as she was?
I was a little suspicious that she was leading me to meet a couple of married serial killers and that we would end up chopped up in the back of their trunk, but after meeting y'all, I was relieved to find out you weren't serial killers (that I know of). But really, it was cool, I enjoyed meeting you and Matt, even though she was probably more excited than I was.
What's your favorite book?
The Hobbit
Lorne asked:
What is the biggest fight you and Amanda have ever had? Who won? Do you have any strategies for winning arguments against your spouse that I could also use?
The biggest fight we had probably resulted from me making a poor decision and then her venting her frustrations with me. I don't think there is ever a winner with these types of fights, but in the ones where its opinion vs. opinion, she usually wins. No tips, just nod your head in agreement unless you are feeling feisty.
Are you the big spoon or the little spoon?
Big spoon
Brittany asked:
If you could have dinner with anyone in the world (someone you've never met), who would it be?
The Dos Equis most interesting man in the world, only if he really existed though. If I couldn't choose him, then I would go with someone that would entertain me like Will Ferrell
What are some of the challenges of being married to a twin?
Going back to an earlier question about fights/disagreements, if you offend one, you will likely offend the other. One thing I also learned early on was not to get in between them when they are fighting with each other. If you do, they both will turn against you.
What are your five favorite things about Amanda?
See my answer on why I married Amanda. Those are my favorite things, but to elaborate maybe a hair farther, she makes me want to be a better person, makes me laugh like no one else, and we value the same things.
Shannon (Brian's sister) asked:
How do you plan on introducing your imaginary friends to your future children? And vice versa?
They will be a part of their lives early on. It will probably happen naturally sort of like it has with my nieces and nephews, where Duck will start quacking at them one day, BD will laugh to get them to laugh, etc.
If you could be on any reality tv show, which one would it be? Why?
The Amazing Race looks like a lot of fun, and I have told Amanda I wouldn't mind doing doing it. We have also discussed how it would probably not be healthy for us to be on a team together because of our competitiveness.
How do you think Noah and Buster will cope with one day having a human sibling?
Judging from how they interact with small children right now, they will be pretty good. Let's use Davis' last visit as an example. Buster sniffed him and after he realized Davis probably didn't have any "scratches" to offer, left him alone (all good). Noah sniffed, then licked, then started trying to play with Davis (needs some teaching, but will definitely be a good big brother).
Terrie (Brian's mom) asked:
What is your favorite childhood memory and why?
Looking back it seems difficult to really narrow it down, so can I just say my favorite times are when everyone was together. Specific places jump out to me like the deer lease and the bay house.
What is one trait of your mother's that you hope your future children will have?
I hope they have your generosity and servant heart.
Brittnie asked:
If you could only eat one meal for the rest of your life, what would it be?
Mixed fajitas (chicken, beef, and shrimp) with shredded cheddar cheese, pico de gallo, guacamole, black beans, rice, flour tortillas, and that creamy butter stuff - all from
El Tiempo
, with Margaritas and beer.
(Amanda now) So there you have it, folks. I was very tempted to make a few editorial comments, but decided to refrain. Although I did add in a necessary comma here and there :) Did any of his answers surprise you? Did any of you girls also skip over the sports questions, or was that just me?
At any rate, thanks for asking, and thanks for reading!